Munich High End 2017: the 432 EVO Master
wins Best Sound Award from AVShowrooms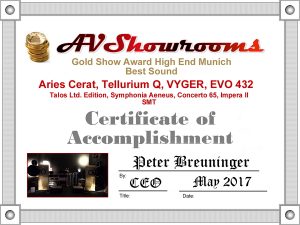 All new 432 EVO MASTER was the ultimate digital source in the Aries Cerat room, of the Munich High-End 2017. Peter Breuninger from avshowrooms wanted to take our shared room with Aries Cerat home.
"Beautifully engineered and designed, the Aries Cerat sound was transparent, emotionally involving and detailed. The speakers throw an image out into the room. It was as if Anne Bisson was right in front of me, singing. The loudspeakers were as beautiful as the music they reproduced. The amplifiers were simply stunning to behold and the new phono stage was introduced with aplomb. The room was truly a sight to see. I loved the sound so much it's my 'take home' room."
Hifi Pig nominated "Hifi Pig Loves You Award"
"one of the best sounding rooms at the show"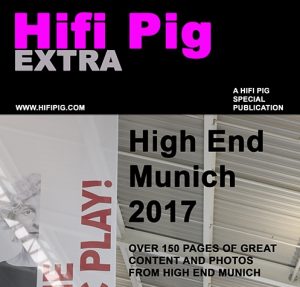 Hifi Pig also visited the room, and it was listed in the top 5 systems of their 160-page show report and nominated for the the "Hifi Pig Loves You" award.
"When someone, whose opinion you trust about high end hifi, tells you that a room sounds so beautiful it moved them to tears…you make sure you go into that room and have a serious listen. Jack at BD Audio had not steered us wrong! A visually stunning room featuring Aries Cerat Symphonia horn loudspeakers, that are wonderfully made from wood, and their hefty Concero 65 monoblock valve amplifiers, plus more of their electronics. There was an equally stunning Vyger Indian Signature turntable, 432 EVO music server and the system was fully cabled with Tellurium Q Silver Diamond with Ultra Silver power cables.
Now this is all very high end gear, it's big and unashamedly bold so a feast for audiophile eyes as well as ears. They were playing classical music when we went in, normally not something that appeals to me but if music that I don't normally listen to can captivate me then it's a good sign. It really was simply stunning and definitely one of the best sounding rooms at the show…also one that we will make a beeline for next year and hopefully get to hear a wider variety of music too."
---
Moiz Fidelity systems recorded the room
So how did it sound?
Our friends from Moiz Fidelity made some great video's. All music played back was in 440 Hz mode, with SQi enabled. This again proves the 432 EVO MASTER can match or outperform any other digital music source (streamer, server, player, cd transport) in any price range now available. The 432 EVO MASTER is a true cost-is-not-object class music server, yet still not having a price tag aligned to the 'contenders' of ultra expensive high-end.